Only a 1/2 mile wide at its widest point, South Padre Island gives you easy access to both surf and sand. South Padre Island's mild weather, calm waters of the Laguna Madre Bay, and constant breeze off the Gulf of Mexico make this tropical destination perfect for watersports. You don't have to go to the Caribbean to catch the wind or ride the waves.
Kayaking
Calm waters and clear skies mark the ideal setting for kayak adventures. The Laguna Madre boasts shallow waters and protected areas that are perfect for both the beginner paddler and seasoned explorers. It's a great way to explore the waters around the Island at your own pace and watch wildlife without disturbing the ecosystem. Local vendors offer equipment and lessons for single, tandem, surf and fishing kayaks.
Island Insider Tip: Rent a glass-bottom kayak from Air Padre for an up-close view of the Laguna Madre marine life!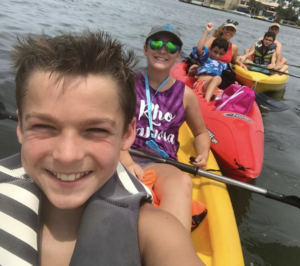 Stand Up Paddle Boarding
You can SUP (standup paddle board) your way along the Laguna Madre Bay no matter what your experience level. The gentle waters make it easy to learn this unique water sport. It looks more difficult than it is in practice, but with an instructor, you'll be up and paddling around the Island in no time! And no worries if you take a spill — there are plenty of shallow areas to practice your SUP skills.
Island Insider Tip: Some vendors, like Eh Brah SUP will even let you bring your dog!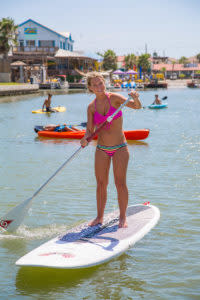 Surfing
South Padre Island is home to the premiere surfing waves of the Texas Gulf Coast, with its clear, emerald water and long peeling waves. Wave heights will generally be in the 3-5 foot range but can get as big as 10 foot depending on the weather. Isla Blanca Beach Park, where The Jetties are located, is known for its easy beginner waves and sandy bottom. This is a much more forgiving surface than reefs when it comes to wipeouts. Lessons are available daily on the Island, along with one-day surf camps that teach visitors from preschoolers to senior citizens how to surf.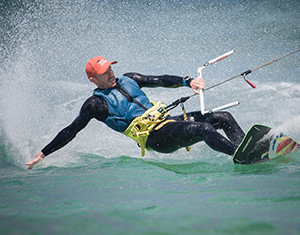 Jet Skiing
Got the need for speed? Catch a wave on a 1.5 HR. Jetski Water Tour and see the entire Island by water! You'll ride under the Causeway and into the "Fingers" of Port Isabel, where you'll see the commercial shrimping industry, the spooky haunted ship, and other secret spots. BONUS: You get to go to Dolphin Cove and see the dolphins play in their Laguna Madre home!
Island Insider Tip: If you'd rather go exploring on your own there are several rental options available.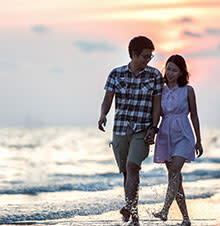 Kite Boarding
Named of one of the "World's Greatest Kiteboarding Spots" by National Geographic, South Padre Island boasts "exceptional, year-round weather conditions and active, bayside waters, making it the ideal spot (one of only five named in the United States) for beginner and expert riders alike." Consistent winds averaging 18 miles per hour make South Padre Island an ideal setting for year-round kiteboarding, but March through June are prime months for the sport. The waters off the Laguna Madre Bay on the Island's western shore (The Flats) are an ideal training ground for beginners, while also offering great conditions for intermediate adventurers. More experienced kiteboarders can find plenty of challenges off the Island's eastern shore in the Gulf of Mexico, easily accessed from The Jetties at the southern end of the Island.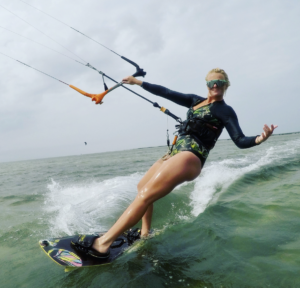 There are plenty of other outdoor activities on South Padre Island. Explore and discover all of the wind and watersports the Island has to offer HERE.