From February 17th through May 8, 2023, Delta will offer direct flights from the Twin Cities to Valley International Airport, offering easy access to all there is to see and do on South Padre Island. In just a few short hours, you can trade snow for sand and stroll our beaches, sample our cuisine, see our sights and more—all under the warm Texas sun.
Visit Delta.com or your favorite travel provider to book your flight today!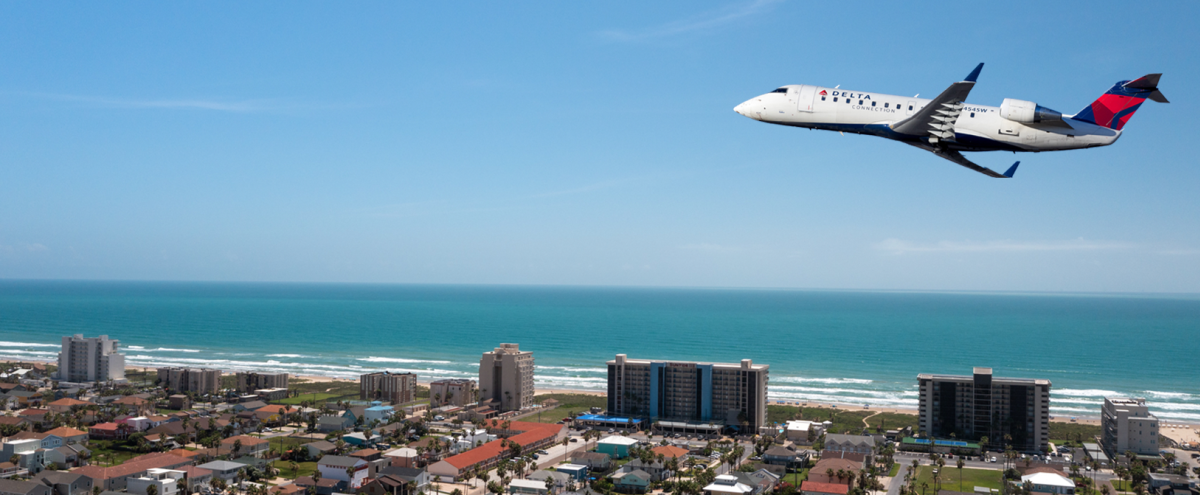 Getting Here by Air
While there's no place to land on South Padre Island, there are three airports nearby to keep traveling logistics for your group easy. All three airports cater to meeting planners and attendees with convenient ground transportation, taxi services, and even car rentals.
30 minutes from the Island / Served by American & United Airlines
55 minutes from the Island / Served by Southwest, United, American, Frontier, Delta & Sun Country
1.5 hours from the Island / Served by AeroMar, American, Allegiant & United
Getting to the Island
So you've made it to the airport, but don't want to rent a car? We've got plenty of options to get you from the airport to South Padre Island!
Lisa Vega
Car Service to/from Brownsville and Harlingen airports.
432-703-8032
More Info

South Padre Island Surf Shuttle
956-443-1406
Spisurfshuttle.com
jason@spishuttle.com
More Info

Shuttle
Service to/from Brownsville and Harlingen airport.
956-761-7433

SPI - Shuttle
Service in the Lower Laguna Madre, covering South Padre Island, Port Isabel, Laguna Heights, and Laguna Vista.
956-621-8647
spi-shuttle.com
michael@4wings.com

All Valley Limousine Service
600 Ash Ave., McAllen, TX 78501
(956) 630-5466
(866) 851-2345 (Toll Free)
More Info

All Valley Charters
600 Ash Ave., McAllen, TX 78501
(956) 213-1181
allvalleycharters@hotmail.com

Escamilla Tour Buses
2801 Zinnia Ave., McAllen, TX 78504
(956) 994-1169
www.escamillatourbuses.com

Presidential Transportation Services
2549 US-83 BUS, McAllen, TX 78501
(956) 223-7488
More Info

Price4Limo
*Limousine, Party Bus & Charter Bus Rentals
(855) 458-7002
More Info
Getting Here by Ground
If road trips are more your style, getting to South Padre Island on four wheels can be an easy trek. We've already figured out the miles for you no matter what direction you're coming from. Gas up and head south on US Highways 77 and 281 from the north and 83 from the west. Then turn your wheels east on State Highway 100.
Mexico City – 667 miles
Monterrey – 225 miles
Brownsville – 27.8 miles
Harlingen – 46.4 miles
McAllen – 79.7 miles
San Antonio – 297 miles
Austin – 340 miles
Houston – 367 miles
Dallas – 565 miles
El Paso – 885 miles
Getting Around the Island
Getting around the Island is a breeze! Hop on the Island Metro (a free shuttle with daily service) to the places you want to go. Stops include beach accesses, many of our hotels, restaurants, attractions, and the convention center. Call 956-761-8178 for the Island Metro schedule and route map, and get going!