Your Tropical Island Dream Wedding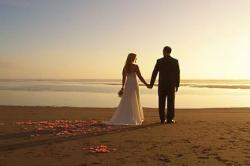 Whether you're eloping or surrounded by friends and family who are there to support you from that day forward, a tropical island can be the perfect place to say "I do," and South Padre Island lets you and your guests travel there without a passport. All you'll need to worry about is how to best enjoy spending the rest of your lives together — starting, perhaps, with a private sailboat ride around the bay or a quiet walk together on the Gulf shore.
Imagine the gentle ocean breezes floating around you as you stand with your toes in the soft, pure, white sand, waves foaming and bubbling on the shore. Warm sunshine beams down on you and your beloved as you hold hands and make your vows. Palm trees reach up toward the bright blue sky as the wind ripples through their leaves. For receptions or indoor ceremonies, South Padre Island offers a wide selection of event spaces to choose from, so you can select one that perfectly matches your style. All of the family and friends who have come to celebrate with you will have a wide variety of accommodations to choose from that suit their unique needs.
This is the day that you've dreamed of for a long time. You may have been thinking about your wedding since you were small, or it might have begun from the moment you first looked into your fiance's eyes and realized that you couldn't imagine your life without them. A celebration of your love should offer you, above all, the chance to look into each other's eyes and promise to care for each other forever.
Planning your wedding is easy and stress-free with the help of our knowledgeable and friendly staff.
South Padre Island is perfect for anniversaries, birthdays and an array of family celebrations.