Why SPI
Escape the four walls and feel the sand in your toes with your next meeting on Texas' only tropical island. Wide-open natural beach and stunning Gulf of Mexico waters are the perfect backdrops for the big ideas and camaraderie of your event. With an a commitment to guest safety and flexibility to address protocols, you can rest easy that your next meeting will be handled responsibly by our experienced team.
With miles of pristine shorelines, year-round perfect weather, and lively dining and nightlife scene, Texas' best beach, South Padre Island, is a popular destination for travelers seeking a tropical getaway. But the sun, sand and sea aren't just reserved for vacationers. Meeting planners love South Padre Island's setting and accommodations for events of all sizes. They also appreciate the Island's tropical backdrop, as it lures attendees who are excited to hit the beach while learning, networking and growing their organizations.
Ready to host an unforgettable business gathering? Here are five reasons to treat your group to a tropical—and productive—getaway on South Padre Island.
A Paradise Within Easy Reach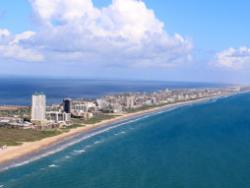 Your attendees don't have to go far to get away. The tropics of Texas are easily accessible by air, land and sea. Nearby cities—Brownsville, Harlingen and McAllen—have airports within driving distance, so you'll have no trouble finding flights to paradise at every price point. These airports now offer direct flights from major metropolitans for even easier travel arrangements. Shuttles and car services connect South Padre Island with the mainland, making it easy to access surrounding cities as well as U.S. Highways 77 and 281. Upon arrival to the Island, you'll find it is easy navigate, providing quick access to accommodations, meeting spaces, beach and bayside activities, dining, entertainment and all the area's nature tourism attractions.
Full-Service Resorts, Beachside Bungalows and More
An authentic island experience awaits you. South Padre Island offers lodging tailored to fit all meeting styles, from rental condominiums and beach homes to full-service resort hotels and motels. Treat your attendees to an event that's as relaxing as it is inspiring.
Venues With a View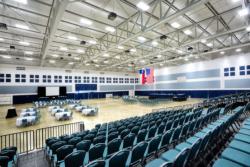 When it's time to get down to business, South Padre Island offers meeting and event spaces that can accommodate everything from beachside concerts and weddings to sporting events and trade shows. The South Padre Island Convention Centre has 45,000 square feet of meeting space, including a 22,500 square feet exhibit hall that's perfect for live performances and large conventions, as well as a 2,633 square feet avant-garde auditorium that's equipped with all the latest technology you need to host an engaging conference. The space can also be configured to hold gatherings of up to 3,000 people, and the Sunset Terrace has excellent views of the Laguna Madre Bay—a breathtaking backdrop for a networking reception.
Coming Summer 2019… Courtyard By Marriott. This full-service beachfront hotel will feature over 10,000 square feet of meeting space and 205 large guestrooms. The hotel will also feature a beachside restaurant and world-class bar with service out to its beachside pool.
Regardless of which venue you choose to host your event, you and your attendees will be treated to the world-class hospitality and friendly service that makes South Padre Island famous. At the convention center, you'll find an accomplished and experienced team of meeting service personnel ready to help you plan a successful event. The South Padre Island CVB team is also eager to assist you with everything, from selecting accommodations and catering to helping plan activities for spouses and providing registration assistance. Count on them to manage all the logistics and technical support that goes into hosting a first-class event.
Tropical Adventures and Off-Site Events
Whether you're looking to host an exciting teambuilding excursion, a relaxing executive retreat or a motivating off-site meeting, South Padre Island offers a wide variety of activities and excursions that can be tailored to meet your specific group needs. Your more adventurous attendees can explore the island by ATV, zip line through some of its most picturesque backdrops or go tandem skydiving. They will also enjoy all the beach and water activities, including stand-up paddleboarding, kitesurfing and snorkeling as well as deep sea fishing, scuba diving and parasailing. Treat them to a horseback-riding excursion along the shoreline or a one-on-one lesson in sandcastle construction with one of the island's master sand sculptors. You can also host a spa day, dinner cruise or group surfing lesson; the options are endless.
For a nature tourism adventure, visit the South Padre Island Birding and Nature Center, where you and your attendees can get up close and personal with native and migrating wildlife, including great blue herons, pelicans and falcons as well as many species of butterflies. But perhaps the most popular off-site outing will be the one that requires the least planning on your part: A free day to explore South Padre Island's 34 miles of white, sugary shoreline.
What's more is the weather on the Island won't affect your plans. South Padre Island's climate is ideal most of the year, thanks to its mild temperatures, the calm sea and more than 300 days of sunshine.
Beachside Dining and Nightlife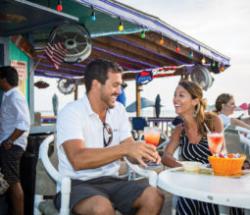 While the convention center's culinary and catering staff is happy to cook any meal under the sun, you'll also find plenty of restaurants on the island where you can treat your attendees to an unforgettable meal in a remarkable setting. Plan an executive breakfast at one of the beachside restaurants, where you can talk business while the sun rises over the Gulf of Mexico. Throughout the day, your group can grab a bite to eat at one of the many charming cafes or lunch at any of the seafood restaurants. For dinner, treat them to an Italian feast while the sun sets over the lagoon, or enjoy a surf and turf by the sea.
The fun doesn't stop once the sun sets. South Padre Island offers plenty of places to relax and unwind after a productive day of meetings and events. Mingle over craft beers at one of the local pubs or enjoy beachside beverages at any of the waterfront cocktail bars.
South Padre Island also has a vibrant live music scene, from professional cover bands to singers/songwriters performing their original hits to themed music nights from the 1970s, 1980s and other decades. Check out the South Padre Island Music Guide to see where the popular local musicians are playing during your event. If you visit the island during the summer, you and your attendees are in for a special treat. During the warmer months, the island lights up with a fantastic firework show every Thursday, Friday and Saturday evening.
Start your next meeting now

So Motivational. So Padre.
Trust falls are a thing of the past! Team building on South Padre Island is all about motivation and personalized experiences. Big like Texas or intimate like South Padre Island, you'll find activities for your group that are sure to inspire.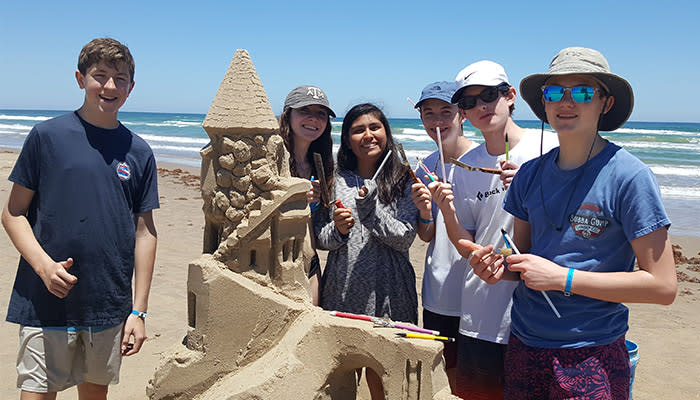 So Epic.
Build Sandcastles in the Sun
Here on South Padre Island, we take sandcastle building seriously. We provide the experts and equipment; you provide the enthusiasm and the group! With a variety of packages available, there's an option that fits your crew.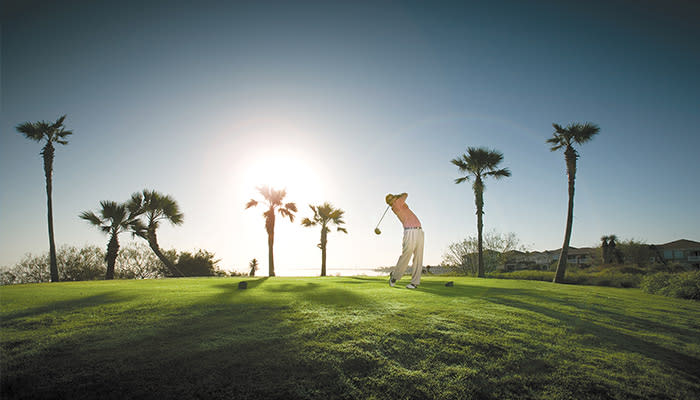 So Serene.
Communicate Without Distractions
There are several group activities with options for large or small groups, designed to help refresh and re-energize teams on our island paradise. Attendees can practice their swing on our greens or explore the Island on a Segway tour.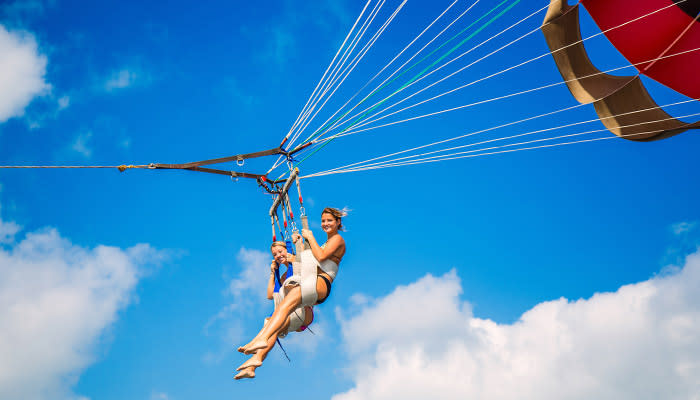 So Thrilling.
Boost Morale, Mid-Air
Your attendees will check a few things off their bucket list while learning team building skills they can take back to the office. Groups can zip-line or jump out of a plane with coworkers. Their adrenaline will be pumping with a variety of activities including parasailing.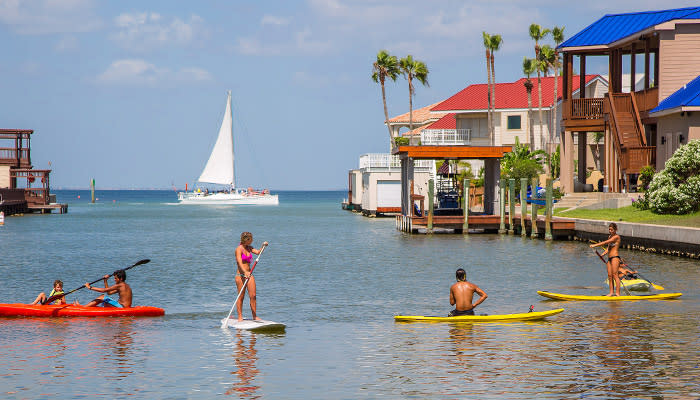 So Refreshing.
Work Together on the Water
If catching waves, snorkeling or even kayaking gets your group's blood pumping, South Padre Island is the perfect place! There are more than half a dozen activities that will have attendees connecting, all while enjoying our amazing Laguna Madre Bay and the Gulf of Mexico.
Ideas For Your Next Meeting