Family Leisure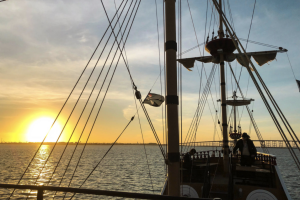 What's the best thing about visiting South Padre Island with your family? Every family is different, but for most of us, it's knowing that we're going to be making memories together to last a lifetime, our way. Family members young and old can enjoy the soft, clean, white sand of the beaches and the warm, clear water of the gulf. It's easy to have fun just relaxing in the sunshine, but if you're up for a challenge, try sandcastle building lessons, where a professional sand sculptor will help you gain all the skills and experience you need to create your own masterpieces.
Ready for a cruise? Get out on the water and try being a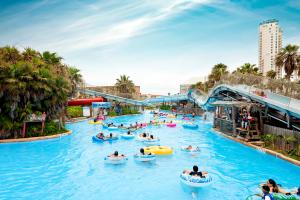 pirate for a day on the Black Dragon; all cruises include a crew of professional pirates who entertain with pirate stories, face painting, treasure hunts, dolphin watching, water pistol battles, sword fighting, music, and pre-cruise activities like fire eating, magic displays, and firing a real cannon. On South Padre Island, you'll also have access to Beach Park at Isla Blanca Water Park, a 25-acre paradise of 13 amazing water slides, native marine life in Sea Trek, and an underwater "Scuba" experience. If you've got extra adventuresome kids and teens, try some of the many watersports available on the island, including snorkeling and stand-up paddleboarding. When you've had your fill of the great outdoors, take a break and head to Gravity Park, where you'll find mini golf, go karts, a rocket, a slingshot, and more.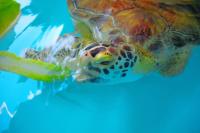 Of course, no family trip to South Padre Island is complete without a visit to the world renowned Sea Turtle Inc., an incredible organization dedicated to the rescue, rehabilitation and release of sea turtles. You can truly have a hands-on experience with rescued turtles and even attend regularly scheduled releases of tiny sea turtles throughout the summer. There's nothing more breathtaking than watching these amazing creatures take their first steps into the ocean, and really no better way to teach your children the importance of protecting sea life.
If you and your family would like to learn even more abou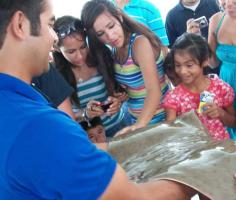 t aquatic life in the Gulf, you can visit the UTRGV Coastal Studies Lab, where you can take a tour to learn about sea turtles, bottlenose dolphins, many different species of birds. These tours are intimate and perfect for a small group, and your captains are happy to teach children as well as adults. After a long day, there's nothing better than snuggling up with your loved ones and enjoying the fireworks, regularly scheduled throughout the spring and summer, from a chartered boat or the comfort of the island. 
Find more of what you love