By Elayna Fernandez
This blog post is part of the Texas Travel Blogger Takeover of South Padre Island.
Waking up in South Padre Island is a miracle in itself. Surrounded by the Ocean and the Bay, this tropical paradise is perfect for a family getaway, just a few hours away from Fort Worth, the city we call home, or wherever you are in Texas.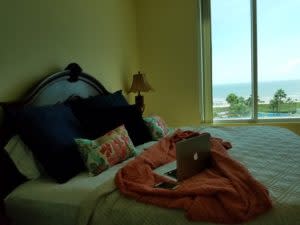 I could hear the soothing sounds and the pleasant smell of the waves right from the delicious comfort of my bed, and the view was absolutely spectacular. Sleep is precious when you are a mom, but I wanted more. I wanted to feel fully rested, grounded, and restored. I wanted to feel the white sand beneath my toes, I craved to be part of the scenery, to be one with the Gulf.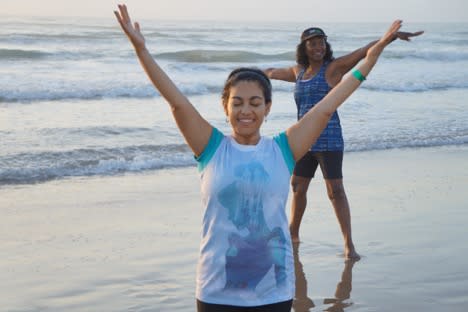 I jumped off, woke up the family, and started our journey to a promising South Padre Island beach yoga session. I've found that the way to assure you won't do something is to overthink it. You've gotta act when you feel the impulse or you'll miss your chance.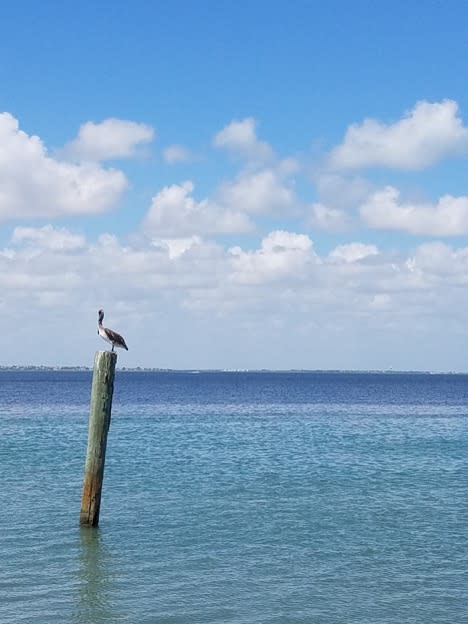 Beautiful seagulls and majestic pelicans welcomed us at our arrival. They inspired me to wake up to the splendor that was around me. Aziza and LaVida, from Laguna Madre Yoga, guided us in the practice of greeting the South Padre Island sun, literally, at sunrise.
Yoga is the perfect way to begin the day in South Padre Island with your family. I know teenagers may complain, toddlers may not hold the attention span, and husbands may rather sleep in, but you will always feel it was worth it. One of the ways I teach moms to live without regrets is to ask yourself a simple question: "Will I be happy I did that?" We say "yes" to so much because it sounds good in the moment, but when you say "yes" based on how you will feel after, you are truly living in alignment with who truly are. Yoga is all about alignment.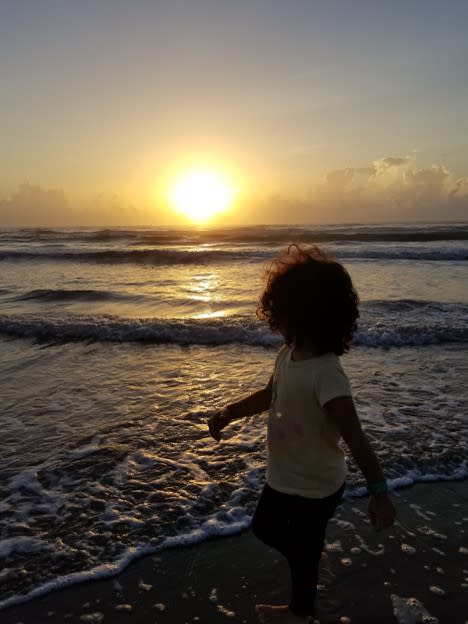 We've all heard that a consistent yoga practice offers great health benefits, but there's no need to discount the occasional chance you get to do it. It's so easy to put ourselves last as moms, so by giving yourself permission to do something for you, you will boost your bliss and cultivate your confidence.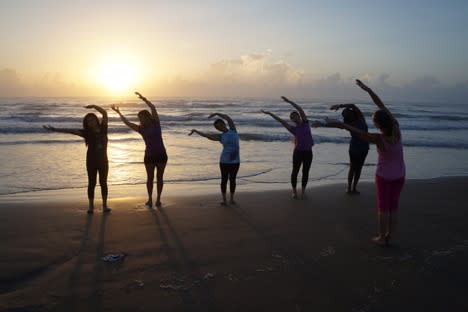 My family and I fell in love with the sunrise and sunset views of South Padre Island. Our South Padre Island beach yoga session was invigorating and relaxing. It is believed that as you practice yoga, you create inner heat that cleanses and detoxifies you, helping you let go of what doesn't serve you. As you surrender to the process of yoga, you create light and power to shift your perspective, and transform your experience.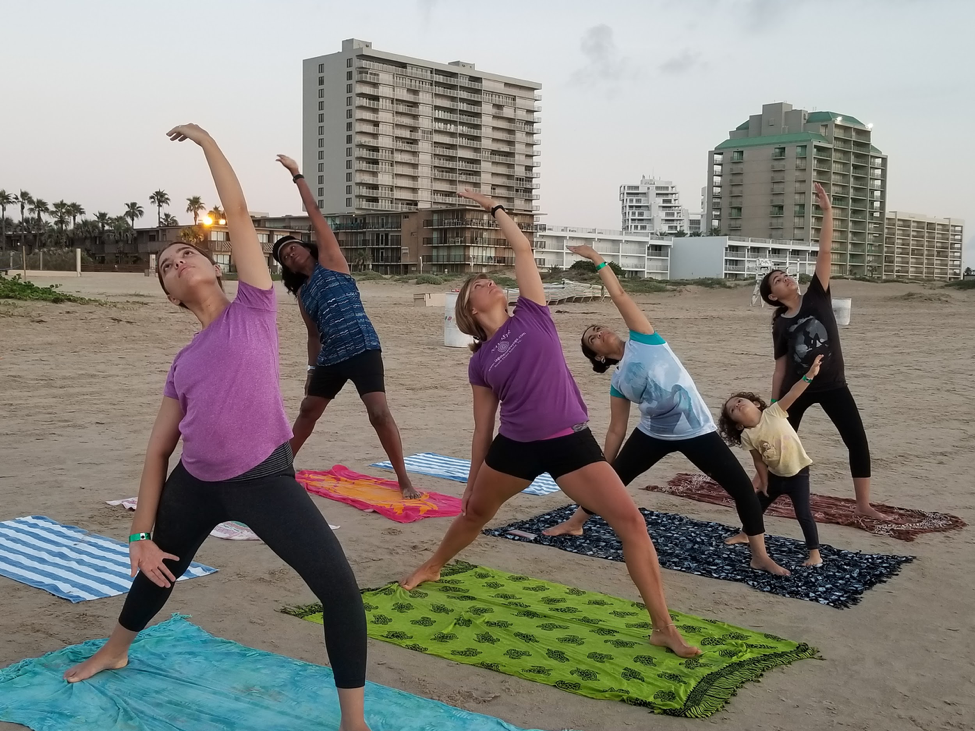 Get outside. Watch the sunrise. Watch the sunset. How does that make you feel? Does it make you feel big or tiny? Because there's something good about feeling both. ~ Amy Grant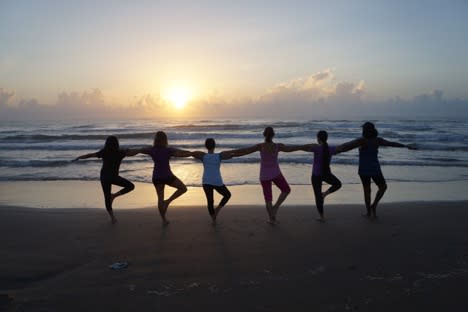 I love taking part in this ancient ritual with my family. Doing yoga together is a way to strengthen our bonds with one another. Yoga is a time to be conscious of your breathing, dedicating undisturbed time to be together, yet honoring each person's individuality.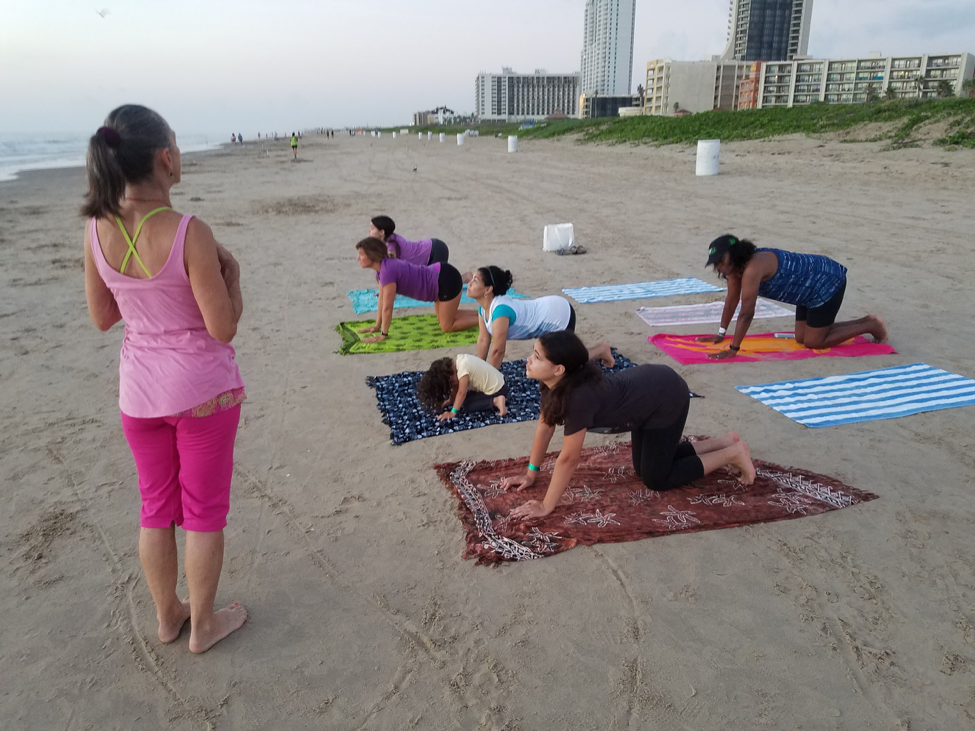 The gorgeous sunrise at South Padre Island is the best backdrop to experience this sense of grounding. The sun's soft caress and gentle breeze playing with my hair was a restorative calming sensation. I wasn't worried whether I was getting the sequences just right or whether I was strengthening and toning my muscles; I just being mindful and in the moment, following the non-judgmental guidance of our experienced instructors. As we witnessed the sun illuminate that beautiful Saturday morning, we honored it and one another, as the source of light that we each are. I felt so grateful for this much needed break from the overwhelming world that is motherhood.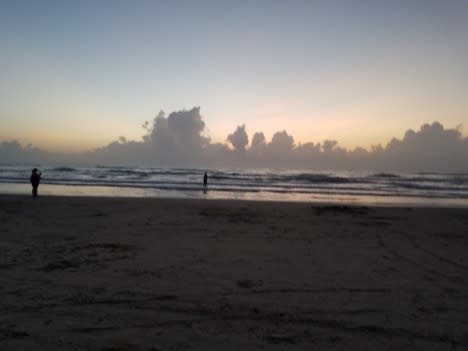 More neuroscientists and psychologists agree that both the practice of yoga and the proximity of the water are essential to our well-being because they are calming, reduce stress, and boost creativity. Because Yoga is a combination of meditation and exercise, it is a holistic practice.
There was a difficult pose we were moving into and our instructor took us through several movements that served as transition to get us there. It was so impressive that just by following simple instructions and using our imagination we were able to do with ease what just minutes before seemed impossible. As my middle daughter says "yoga helps us stretch our potential and exercise the power of our minds."
South Padre Island is the perfect spot to slow your pace and connect with your body, your mind, and your environment. Getting up early with your family, hands joined at the heart, overlooking the sea, in the presence of our friends, was a peaceful experience, almost a sacred one.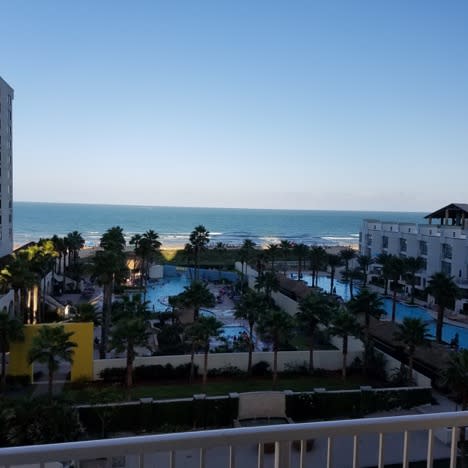 As we lay flat on our backs, heels spread, arms at the side, palms facing upward, I realized my daughters had fallen asleep in their favorite pose: Shavasana. With deep gratitude, feeling rejuvenated, we were ready to take on a day filled with adventures, exploring the natural beauty of South Padre Island.
After the sunset that night, we enjoyed a meteor shower and wished upon the brightest shooting stars. When I went back to my condo bed, I gave thanks for both the light and the darkness, because one makes the other. The memories we made as a family were meaningful and intentional, and South Padre Island beach yoga was the perfect way to begin the journey.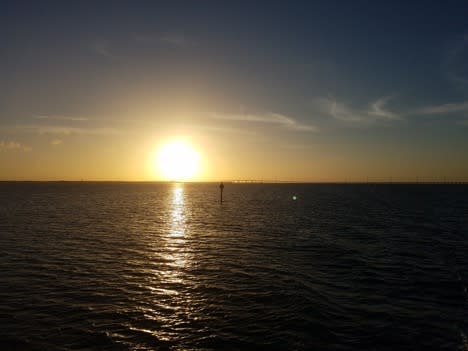 _________________________________________________________________________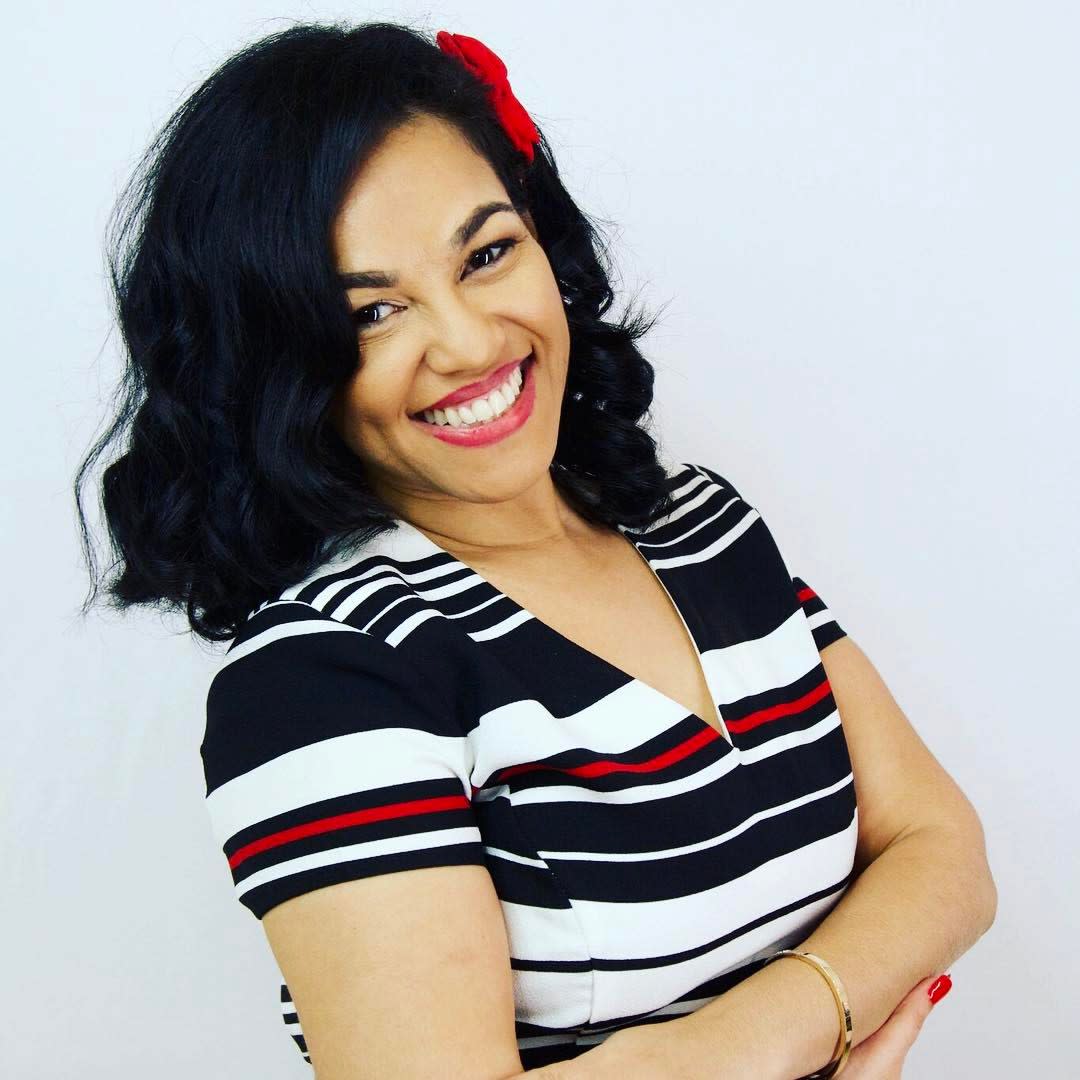 Elayna Fernández, known worldwide as The Positive MOM, considers herself a storyteller, a strategist, and a student of pain. Elayna lives in Fort Worth, Texas, with her family and loves to make meaningful memories in their travels.