If the idea of catching a fish in the morning and eating that same fish in the evening appeals to you, you'll want to keep reading. Here's everything you need to know about National Cook Your Catch Day in South Padre Island.
I was invited by the tourism office in South Padre Island Texas for National Cook Your Own Catch Day. All opinions are mine.
There's a national day for everything these days. I have given up on keeping up. However, one Saturday in January I was on time and on track. Here's my experience with National Cook Your Own Catch Day in South Padre Island Texas. You can easily recreate this trip or use it as a starting point to design your own. 
And, it doesn't even have to be National Cook Your Catch Day. You can do this any time of the year in South Padre Island, although I think January is a great time to visit the Texas Gulf Coast.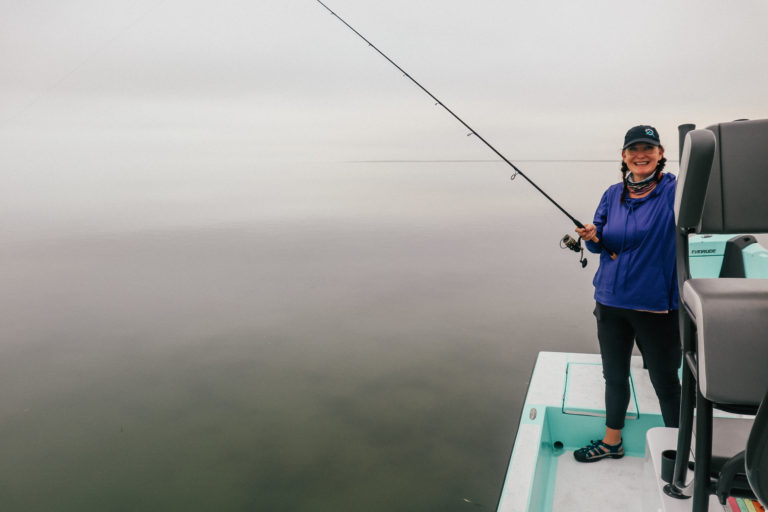 UP WITH THE SUN TO FISH FOR MY DINNER
Like most coastal communities, South Padre Island thrives on the fishing industry. This year, National Cook Your Own Catch Day was on January 23rd. I was up at dawn to go fishing with my designated guide, Captain Eddie Curry. 
I guess this is a good time to clarify that I've never been fishing before. We had a boat when I was a child and I remember my dad catching fish at Medina Lake and Canyon Lake. I'm sure I probably held a fishing pole at some point but my knowledge of fishing related stuff is pretty slim. I don't recall catching anything ever so fishing for my own food was a brand-new experience.
FLAT BOTTOM BOATS AND SHALLOW WATER
I met Eddie at Parrot Eyes on the Laguna Madre, bright and early. The picture I had in my head of fishing in the ocean was a large boat out of the open sea and fighting to reel in a swordfish or marlin roughly the size of me as the boat pitched back and forth on the swelling waves.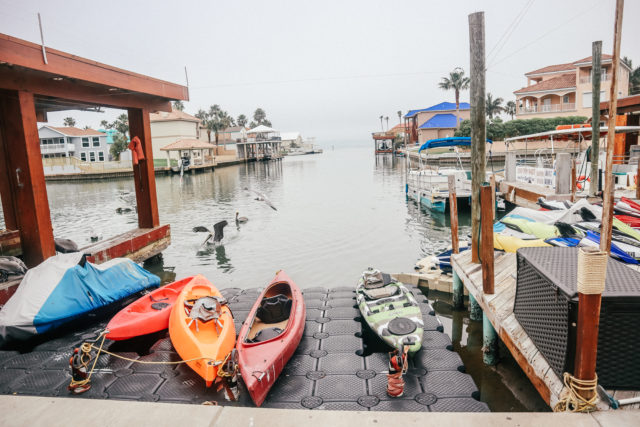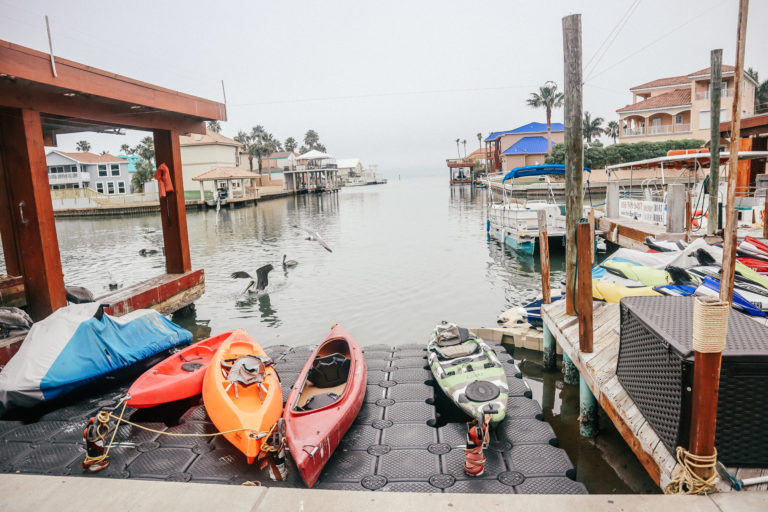 I have a big imagination. 
This wasn't exactly like that. The boats are small and flat bottomed and designed for shallow water. I was astounded to see how shallow the water was far out into the bay. We were fishing for redfish and the water was probably up to my hips at most and we could see the bottom of the ocean the entire time. 
These flat bottom fishing boats (we saw several of them out on National Cook Your Catch Day) are designed to hold six people, although Eddie said he preferred to take smaller groups. That made sense to me. There were four people total on our boat and moving around would have been challenging with more bodies.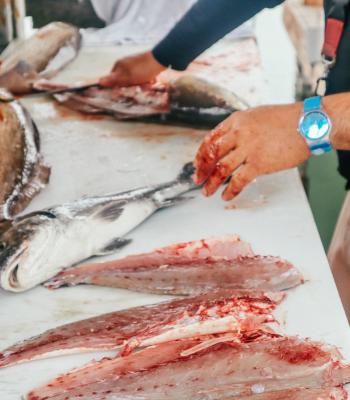 A THREE HOUR TOUR
This trip was as much about fishing education as it was about fishing. I found Eddie to be patient and fun to talk to and the time went by pretty fast. We had to move a few different times to find the spot where the fish were biting and not be intruding on another boat's fishing space. 
Since the water is so shallow, one of the biggest challenges is keeping the boat from getting stuck on the bottom. Eddie had a good idea of where he wanted to fish – I think all the regulars have their favorite spots or an idea of where the fish will be biting. He'd cut the engine and we'd coast in so we didn't scare off the fish.
NO FISHING RECORDS SET
Our group of four caught about eight fish – three keepers. A fish has to be at least 20 inches to keep and a few of ours fell short of that. A 20 inch redfish will feed two adults, so we had plenty for eating.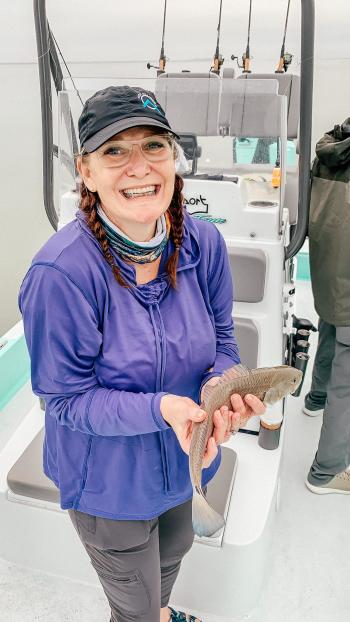 THE BEST PART ABOUT HIRING A FISHING GUIDE?
Eddie cleaned and fileted our fish. The Pelicans and gulls knew what was up and gathered around for their treats – skins and fish heads.
As I said earlier, this was as much an exercise in fishing education as it was in catching fish to eat. I feel like I have something to build on next time I go out, and I would definitely hire a fishing guide, choose Eddie again, and launch at Parrot Eyes.
I would love to do this with my kids – my boys are 10, and I know they would be super into this. This is something people of all ages can enjoy, although I don't think my loud children would appreciate the stillness out on the water as much as I did. 
IS THIS EXPERIENCE KID-FRIENDLY?
Absolutely yes. I think the personality of your guide is important. He or she has to be willing to take/teach kids, but in my limited experience with fishing guides, they seem like pretty laid back people who love what they do and want other people to love it, too. 
I'd recommend a child be at least four and able to listen and follow directions to take part in this experience. You're in a small space with lots of fishhooks. While falling overboard doesn't seem to present any real danger, the kiddo needs to be old enough to understand and appreciate what's going on. Also, the idea of chasing an unruly child on a small boat for three hours doesn't sound like my idea of a good time. 
You know your children best. For any of mine, I'd have been comfortable taking them at around four years old. 
"COOK YOUR OWN" MIGHT BE STRETCHING IT A LITTLE BIT 
Our filets were delivered to The Painted Marlin (Now called Viva), where we went for dinner that evening. We had two recommendations from the chef on how to have our redfish cooked – blackened or fried. We got to sample both. I preferred it blackened, but the fried really surprised me. The batter is really light and not what I expected from a fried filet.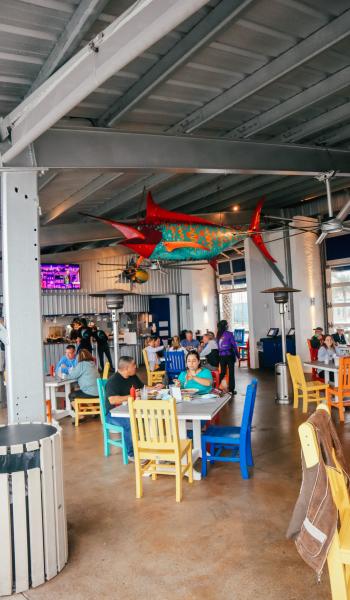 Parrot Eyes and Liam's Steakhouse and Oyster Bar will also cook your catch for you.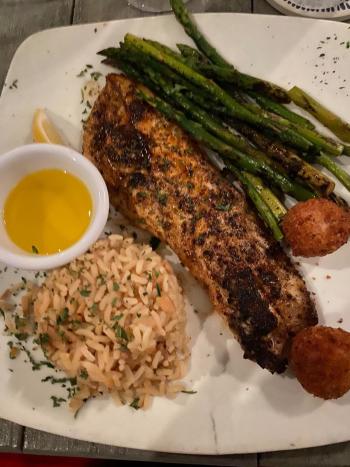 WHAT ELSE DO YOU NEED TO KNOW ABOUT COOKING YOUR CATCH?
COOK YOUR CATCH DAY IS EVERY DAY
While it's fun to go fishing on National Cook Your Catch day, you definitely don't have to wait to schedule your own fishing trip. Fishing guides and restaurants work year round to provide this experience.
YOU'LL NEED A FISHING LICENSE
I bought mine at a local grocery store the night before my fishing trip. You can also buy online.
KNOW WHERE YOU'RE GOING TO COOK BEFORE YOU CATCH
Make sure you contact the restaurant before your fishing trip to make sure they can accommodate you.
JANUARY IS AN AWESOME TIME TO GO FISHING
Weather is always a variable in Texas but it was very mild and pleasant out on the boat. I'd imagine summer mornings are blazing out on the water – and there is zero shade on these boats.
WHAT TO TAKE WITH YOU
A hat, sunscreen, a waterproof or water resistant jacket and a camera. I mean…you can't boast about the one that got away if you didn't take a snap. Pictures or it didn't happen, right?
I was also advised to take Dramamine, although I didn't. I've been on different types of boats and don't typically get seasick. You are in shallow water and there's minimal rocking and pitching. I told my husband (who pretty much gets seasick if he looks at a boat) that I didn't think he could possibly get seasick doing this. 
Jill is an experienced digital content creator, essayist, and humorist. She is a proud Air Force veteran who spent 26 years in the United States Air Force and is loving her second act as a writer. 
She's married with three children and lives in San Antonio with her husband and two sons. She writes about adoption, adventures in Texas and beyond, and everyday mom life on her blog, Ripped Jeans and Bifocals, so named for being the oldest mom with the youngest kids.