Alisha Workman and I (Jamie Whetstone) recently visited the Gladys Porter Zoo to take a tour and chat with the Director of Marketing, Cynthia Garza-Galvan. It was a day of many firsts — not only was it the first time either of us had been to the Zoo, but it was also the first time either of us had fed a giraffe or a flamingo. If you're visiting South Padre Island, we highly recommend taking a day trip to the Gladys Porter Zoo while you're in the area.
About the Gladys Porter Zoo
The Gladys Porter Zoo is a visitor-oriented zoological and botanical park, dedicated to the preservation of nature through education, conservation and research. Gladys Porter opened the Zoo in 1971. Porter was the daughter of Earl C. Sams, who was the first person to ever work for JCPenney and the founder of the Earl C. Sams Foundation. Porter used to travel extensively. Through her travels, she saw the plight of wildlife and how certain animals were becoming endangered, and she wanted to build a zoo in Brownsville, TX that focused on endangered species. She wanted everyone to have access to the zoo, which is why it was built in the middle of town. Porter donated the zoo to the City of Brownsville, but it is operated by the Valley Zoological Society (a nonprofit). Through the Earl C. Sams Foundation, many things were done for the City — Dean Porter Park, the Camille Lightner Playhouse, Sams Memorial Pool, Camp Lulu Sams, and Sams Stadium.
In display space, the Zoo covers 32 acres and there's a resaca that runs right through it. The Zoo represents Tropical America, Africa, Asia, and Indo-Australia, and there are 47 or so endangered species. Right now they are landlocked, so they are focusing on improving existing areas and exhibits. "We are trying to incorporate more air-conditioned exhibits so it helps to keep people cool as they go throughout the Zoo," said Garza-Galvan.
"We are known for our gorillas — we have three generations," said Garza-Galvan. "We introduced a new male into the family recently, so we'll probably have some babies soon." Some other popular exhibits are the Herpetarium (which was renovated fairly recently), the giraffe feeding (only on weekends and during weeks like spring break), and the Small World Nursery is popular with the smaller children.
The Small World Nursery is a hit with the kids because it includes a petting zoo. While he can't be pet like the other Small World animals, the tiger that was discovered by the Border Patrol is currently being housed in that area. "He was only 8 weeks old, left in a duffel bag on the south side of the border wall, overheated and dehydrated. We will continue monitoring his health before he goes to his permanent home. We're taking this opportunity to highlight wildlife trafficking to try and create awareness," said Garza-Galvan.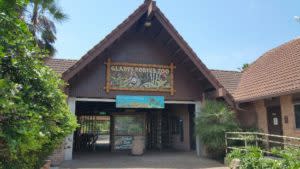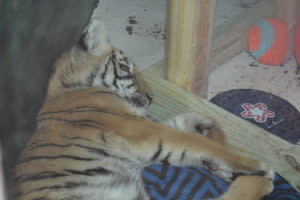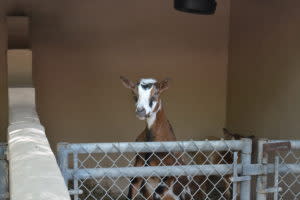 Giraffe Landing Feeding Experience
"This is our family of giraffes," said Garza-Galvan. "The only thing we do is swap out the males occasionally. Once a young male becomes old enough to have a family of his own, we transfer him somewhere he can do that." We were then handed what looked like giant sprigs of parsley and told to hold on tight by the keeper. The giraffes clearly knew the drill, because they were very quick to come to the fence and snatch the vegetation right out of our hands. The keeper wasn't kidding about holding on tight!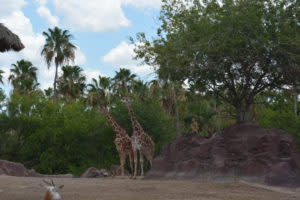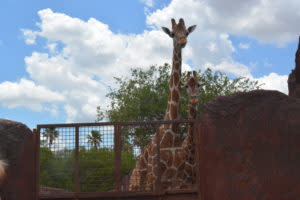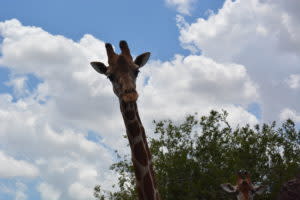 At the Russell Aquatic Ecology Center, large tanks depicting various ecosystems you find in the area and in the Gulf of Mexico are featured. One tank is even representative of what you would see if you were at the Jetties on South Padre Island. We didn't see any, but Garza-Galvan told us that occasionally a mermaid appears in one of the tanks for birthday parties and special events. Although reluctant to give it a try, I did eventually put my hand in the touch tank full of stingrays — Alisha was happy to just observe.
As we walked through the Herpetarium, passing by various snakes, lizards and turtles, we noticed that there were a few displays that seemed empty. Garza-Galvan explained that these animals were new to the Zoo, and that they were going through their quarantine period. Upon coming to the Zoo, all animals are monitored for a period of time to make sure they don't have any sort of diseases that would spread to the other animals. Once cleared they are slowly introduced into their new environment.
"When the railroad switch yard left the City of Brownsville, the City gave us a piece of property where the tracks used to run," said Garza-Galvan. "So in 2008 we built the Butterflies, Bugs and Blooms exhibit on that property, and then we added a handicap accessible playground in 2010 with misters. The playground was built with features for those who are visually impaired. We are looking at finding ways to be fully accessible to people with special needs throughout the Zoo."
Next we walked through Macaw Canyon, which is a replica of a real canyon in the Mexican state of Tamaulipas, passed by the Galapagos tortoises, and into the South American Free-Flight Aviary filled with roseate spoonbills, white ibis, and various other birds. As we continued through the Zoo we saw the Australian capybara (the largest living rodent in the world), three types of lemurs, a spider monkey who seemed to be showing off his tree climbing skills, and less familiar animals like the Arabian oryx. These medium-sized antelopes gave rise to the unicorn myth because of their profile. It is not uncommon for them to lose a horn, and from certain angles, the oryx may seem to have one horn rather than two.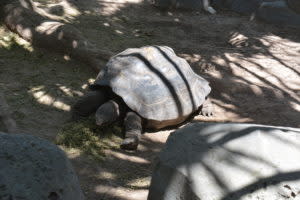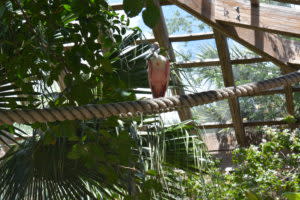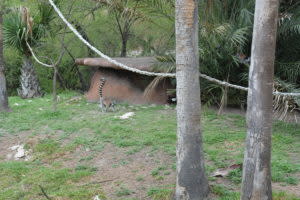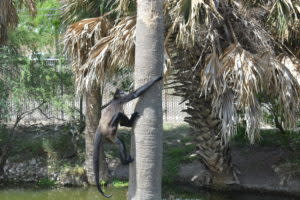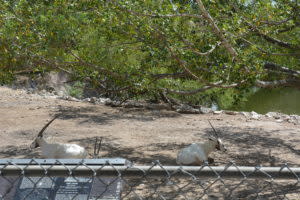 Alisha's favorite part of the tour was at the end — the flamingo feeding! While feeding the Caribbean flamingos, we watched as several of the birds prepared their nests in the mudflats. It seemed almost ritualistic the way they stomped their feet, trying to shape the mud just right. But as more of the flamingos realized that we had food, they quickly took a break from what they were doing to come see what we had for them.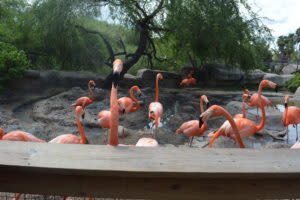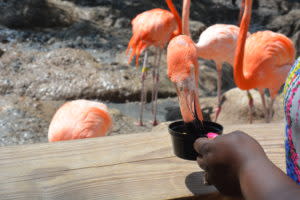 THINGS OF NOTE:
Botanical display has 200+ species of plants.
Home to Mangshan vipers, which are very rare in zoo collections.
One of the first zoos to breed the Phillipine crocodiles in captivity.
Only rehab facility south of San Antonio.
Work closely with places like Sea Turtle Inc.
CLASSES & TOURS:
Saturday classes for pre-k through 6th grade (Spring & Fall)
Sunday afternoon train tours
Starlight Safaris (overnight camps)
Island Insider Tip: During the Summer Safari camps the kids get to hang out in the bat cave while the keeper tells them all about fruit bats!
ADMISSION:
Adults (ages 14–64): $14.00

Seniors (65+): $11.50
Children (ages 2–13): $8.50
Children 2 and under are FREE
Annual Family Membership: 2 head of household & all kids under 18: $85/yr.
*Membership includes free parking, tickets to Zoo events, and their quarterly newsletter*
HOURS:
Monday through Friday 9am–5pm | Saturday & Sunday 9am–5:30pm | Open year round
For more information, visit www.gpz.org.