There's a new way to have fun on South Padre Island, and it's not your typical ride. Meet SPI Cycle Pub. Ride your way around the Island on the 15 seater bike, the perfect eco-friendly way to enjoy the outdoors, and the fresh ocean breeze. 
You have two ride options to choose from. "Booze Cruise" features 10% off your adult beverage purchase at Island Daquiri's to go, while "We all scream for Ice Cream" includes one stop at KICS Ice Cream Shop. 
If you are wondering how to prepare for your Cycle Pub rise, we've got you covered! Make sure you stay hydrated during your ride. The great news is that Cycle Pub rides are BYOB. Bring out your ice and drinks, and SPI Cycle Pub will provide an ice chest for chill storage. You can bring snacks too!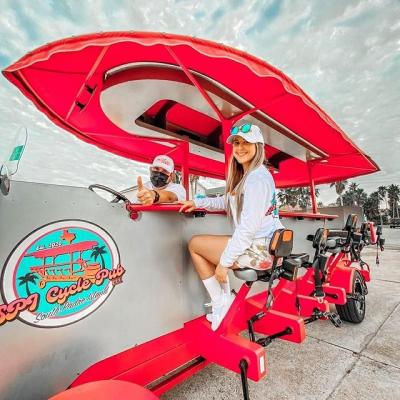 As soon as you and your party hop on for the ride, you need to designate a DJ. That's right, select the best person in your party to set the mood – or prepare your perfect playlist in advance. If that wasn't enough fun, you can request a microphone so you can sing your heart out! If the music is getting you in the mood to bust a move, you have the chance to do it. You won't even have to stop the ride to start dancing; the Cycle Pub comes equipped with a small dance floor down the middle for on-the-road dance-offs.
Don't miss out on this unique way to peddle around the Island. In fact, it's the only moving pub of its kind in the entire RGV. It's a must for anyone ready for something new.