There is no better way to experience South Padre Island than by being on a boat with friends and catching fish. The Lower Laguna Madre is home to the best fishing that the state has to offer. Tarpon, snook, redfish, speckled trout, flounder, mangrove snapper, lookdowns, and jack crevalle are just some of the fish species that populate these pristine waters.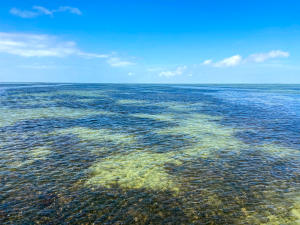 South Padre Island is not only home to the best fishing, but also to the best fisherman. This is why I highly suggest booking a local guide for your best fishing experience. It doesn't matter if you are a beginner or a well-experienced angler, these knowledgeable guides will work with your skill level and make sure to make the most out of your day. 
Jim's Pier is where many of the island's best captains guide out of. They are a one-stop-shop offering cold drinks, snacks, ice, bait, fishing tackle, and apparel. Jim's Pier even has Gus, a local fish cleaner, waiting for you at the dock after your trip to fillet your catch. You will most likely be chasing speckled trout and redfish on your guide trip, which both put up a fun fight and make excellent table fare.
With your fillets in hand, you can conveniently walk just a few steps over to The Painted Marlin Grille, which is located next door to Jim's Pier and offers several delicious styles of 'cook your catch'. This island-vibes waterfront restaurant has the friendliest staff and breath-taking views of the Lower Laguna Madre. This is the perfect, laid-back place to relax and enjoy the sunset while your fresh-caught speckled trout, redfish, or flounder are being prepared for you.
The memories made while enjoying nature on the water with your loved ones and eating fresh seafood are ones that will last a lifetime.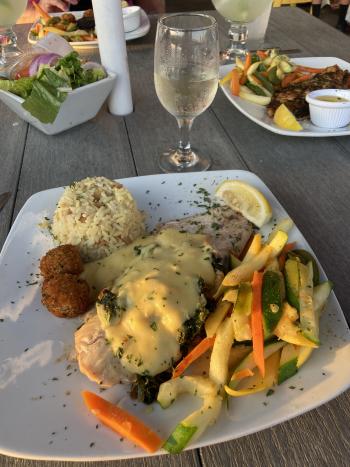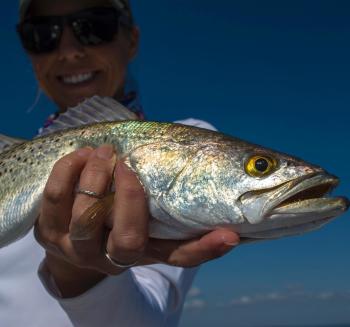 Kelly Groce is a native Texan and water lover. She loves living on the third coast and be able to fish, surf, and enjoy nature on a daily basis. If she's not doing graphic design, photo-editing, or writing, she's enjoying the great outdoors with a camera in her hand.