July 2021 Inshore Fishing Forecast
Provided by Kelly Groce
kelly@saltyangler.com | Instagram @kellyratbones
The Lower Laguna Madre is home to the best fishing that the state of Texas has to offer. W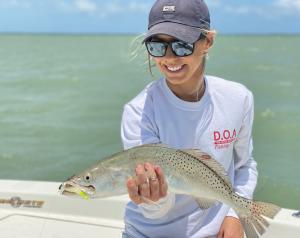 ith that being said, July should be a great month for catching a variety of inshore species. For targeting redfish and speckled trout in the bay, ¼ oz. jigheads rigged with a soft plastic jerk bait or paddle tail of your choice will work great. I suggest using a dark-colored lure in murky water conditions and a bright-colored one on the shallow, clear flats. As you are reeling in your line, bounce your jighead off of the bottom, mimicking a baitfish the best that you can. A beginner-friendly style of fishing that will work great for catching speckled trout is a popping cork rigged with a shrimp underneath. You can use either a live shrimp for this or an artificial one. Just make sure to pop that cork so the fish can hear it. If the jetties are more your style, big bull reds, tarpon, snook, speckled trout, sheepshead, etc. are all species that can be found here. Your best bet for a chance at fighting a big redfish is by putting out a bottom rig with a piece of dead-cut bait. Ballyhoo and/or a finger mullet work perfectly. Tarpons are officially here and if you look closely, you will be able to see them rolling close to the jetties when the conditions are right. In this case, try sight casting a D.O.A. Lures Baitbuster at them. If you get one to eat, hold on tight and make sure to point your rod at them when they decide to jump. Not only is South Padre Island home to the best fishing in the state of Texas, but also the best fisherman. For an almost guaranteed great day of fishing, I highly suggest booking a trip with one of the island's local fishing guides. Good luck and most importantly, have fun! Click here to download the Fishing Almanac.
Texas Fishing License Information
Get to know Texas' rules and regulations for fishing to ensure your best days on the water.
Includes regulations for recreational freshwater and saltwater fishing and hunting in Texas.
It just might be the best year-round bay (nearshore), offshore and surfcasting you'll ever find!