For most people, our exposure to kites growing up was limited to the cheap, plastic, diamond-shaped kites held up with a flimsy stick and controlled by an even flimsier string. So when vibrantly colored kites shaped like sea creatures and giant wheels are regular sightings on South Padre Island, it makes you wonder what you've been missing!
---
Meet Paula and Rick Villarreal, the Kite Kouple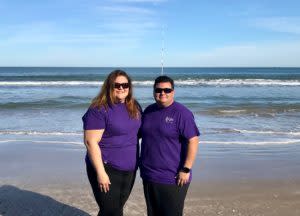 Paula & Rick Villarreal
The Island holds a special place for the Kite Kouple — they met on the Island, Rick proposed on the Island, and they got married on the Island. So it's no wonder that they enjoy spending their free time flying kites on South Padre Island, not to mention the scenery and the average wind speed being 8-12 mph.
Paula got her first kite in 2000. She fell in love with a dolphin stick kite but couldn't justify spending the money at the time. A friend tricked Paula by having her "help pick out a kite for a niece," and it just so happened to be the one that Paula desperately wanted. The friend even went so far as to have Paula wrap the kite, but turned around and gave it to her as a gift. Rick didn't buy his first kite until 2004. Wanting to support local businesses, he went to B&S kites and chose a two-line kite called the "Detonator" by New Tech Kites out of Austin. He flew it on and off and even bought another kite a couple years later, but "life happened," as Paula said, and eventually the kites ended up living in the closet for the most part.
Three years ago Paula and Rick decided to start flying kites again, and began diving into the art of kite flying and the intricacies of the hobby. Rick laughed as he said that "two kites turned into four kites turned into a car full of kites." They have now been flying kites consistently for 10 years.
I was surprised to hear that there's actually a small kiting community in the area called the RGV Kite Flyers. They all come from different backgrounds and stages in life and are fairly active in the sport and hobby of kiting. So if you see big beautiful kites being flown on the beach, it's most likely the Kite Kouple or their kiting community friends. Not only will several RGV Kite Fliers be showing at this year's SPI Kite Fest, but the Kite Kouple will be showing as well, debuting a new surprise piece at the outdoor show.
Despite their affinity for kites, both Paula and Rick work full-time in the therapy realm. "We are generally here every other weekend and we communicate with the rest of the kiting community regularly," Rick said. "Saturdays are our big days. We always welcome people to join us and learn. Most people don't think about it, so we really emphasize safety when teaching the art." They don't have set lessons and they don't charge, but if someone reaches out to them they are more than happy to share their knowledge and passion for kiting.
I noticed they were sporting shirts with the B&S Kites logo, so I asked what their affiliation was. "We don't work for B&S Kites, but we buy many things from them and have developed a relationship with the owners over the years, " Rick said. "We point people to the shop for their kiting needs and to get them started if they're a beginner. We're happy to be advocates for B&S Kites since they've helped us so much with our hobby." * Island Insider Tip: If you ever see a big pink octopus (75 ft.), it belongs to B&S Kites. It requires 2-3 people to work the kite.
The day I met with the Kite Kouple the conditions were not ideal for flying a kite, but they were good sports and hauled all of the equipment out to the beach anyway. As we talked about the different types of kites, they carefully unwrapped each one and explained their makeup and what is needed to fly them.
The first kite was a parafoil kite shaped like a big purple octopus. A parafoil kite is made of fabric with no solid frame that works by filling with air when open. Rick tried his best to get the octopus up in the air, but the wind was not on his side. Regardless, I was able to see it all stretched out and swimming through the air long enough to snag some photos.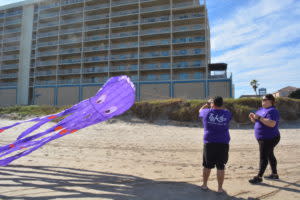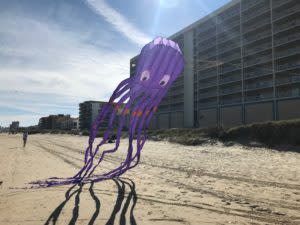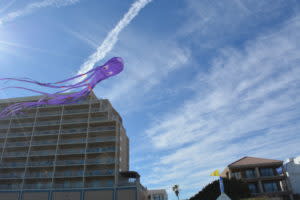 The second kite was a delta kite by Willi Koch (one of Rick's favorite designers) called "Rainbow Waterfall." This kite is brilliantly colored and is absolutely stunning when you see it flying against a clear blue sky. A delta kite like this one is a great example of a "lifter kite," which you can attach "line laundry" to. Line laundry is the affectionate term for the tails, windsocks, flags, streamers and spinners you see further down on a kite's line, creating a stacking effect.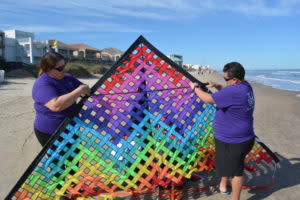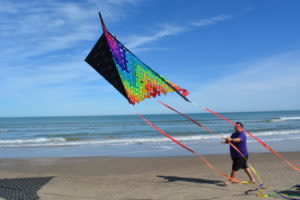 A good indicator of conditions being right to fly a kite is if flags on mast are extended straight out. If they're rippling or snapping, it's likely too windy. Rick recommends letting the line out about 250 feet in total. Start with 150 feet, then pull the line and let it start rising, then let more line out. Rinse and repeat. In good conditions, once you have your kite up high enough, there really isn't much to it. As long as you anchor the line somewhere and check in on your kite from time to time, you can sit back and enjoy just watching it fly, perhaps enjoying the subtle artistry of color and movement.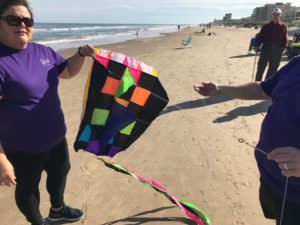 Parafoil 5 Kite by Premier Kites
Recommendations for beginners:
Try a triangle-shaped "delta" kite called an Easy Flyer.

It has one stick and is really user-friendly.

The string is included and has everything you need — it practically flies itself.

A parafoil kite is also great for beginners.

It works well even with very little wind, plus it's durable and affordable.
A small parafoil kite is great for vacationers, because it's compact and you can stick it in your suitcase when you leave.
* Island Insider Tip: You can buy both types of kites at B&S Kites! 2812 Padre Blvd. | (956) 761-1248
The Kite Kouple's Inventory: 50 kites & 70 pieces of line laundry
Favorite kites they own: Swept Wing Double Box Delta by Barbara Meyer (Rick) | American flag delta kite with a red, white and blue wind wheel attached (Paula)
Favorite "creatures" they own: A seahorse and a trilobite (based on the sea urchin that is now extinct), which is a 16 meter kite with 60 ft. tails. "We run 1250 pound line on something like that," Rick said. "When it's really windy you need two people to bring it down."
Follow the Kite Kouple on Facebook, Twitter & Instagram!
---
What started out as a mere "fun fly" is now one of the biggest kite festivals in the country, hosted by B&S Kites on South Padre Island.
Jan. 30 @ 6:30 to 8:30 p.m. | Tickets are $6 The festival kicks off with an Indoor Kite Performance held at the South Padre Island Convention Centre, boasting an array of internationally-known kitefliers.
Jan. 31 Feb. 1 @ 10 a.m. to 4 p.m. | Admission is FREE The festival moves outdoors to the flats just north of the Convention Centre. Several kitefliers from all over the United States are scheduled to bring their magnificent show kites that will be on display throughout the day. Past show kites have included a huge 3D dragon, a 150 ft. octopus, a 90 ft. gecko and a 24 ft. spinning bol — whatever you can imagine, you might see it soaring in the air.