Labor Day is fast approaching, and for most of us, that means a 3-day weekend. We've made it easy for you to have a So Padre weekend getaway on Texas' best beach. Whether you're into wild water sports, coastal culinary delights, or just relaxing on the beach, there's something for everyone on South Padre Island. Follow these tips, and no matter what your Island vibe, your Labor Day Weekend is going to be So Padre!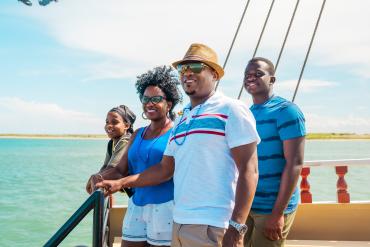 Book your stay
Pick your perfect place before heading to the Island. The best news is that you have your choice of places to stay – from on the beach bungalows to high rises with Gulf or Bay views. Select properties offer Labor Day Weekend promotions, but hurry, the deals won't last long! Check out all the options available with our handy Places to Stay list.
Treat yourself!
Make sure you have all your beach essentials—sandals, sunglasses, bathing suits, beach towels... On the Beach Surf Sports has it all, even surfboard rentals. Take advantage of their Labor Day Weekend Sale. You can get 50% off on select clothing items. Now you have an excuse to treat yourself! 
Looking for adventure
For the thrill-seekers in the family, we suggest a parasailing session. Something no one ever mentions is the awesome aerial views of the causeway, the Laguna Madre Bay, and the South Padre Island skyline. Parasailing is just something you have to experience yourself. But if heights are not your thing, there are plenty of other exciting (or relaxing) options. Check out Things To Do on South Padre Island.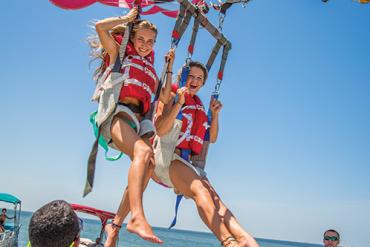 Looking for something new?
If you want to experience the Island from a different perspective, try the newest sensation in the Rio Grande Valley - the SPI Cycle Pub! Pedal around South Padre Island while enjoying the fresh breeze. Let your designated DJ set the mood for you and 6 to 15 friends and family! 
You're in #FoodieParadise
From fine dining to food trucks, there's something to please anyone's pallet. With more than 40 local dining options, you can experience bold, tropical flavors while enjoying beach or bayside views. Check out a full list of dining options on South Padre Island.
The main show.
Labor day weekend cannot be complete without a good firework show, and we always do it right on South Padre Island. Plus, as the Fireworks Capital of Texas, we have to go above and beyond. Make sure to arrive at South Padre Island's Entertainment District early enough to secure the best spot. Grab your favorite snacks, a tasty beverage, and kick back to finish your weekend off with a bang!.