By Kimberly Maldonado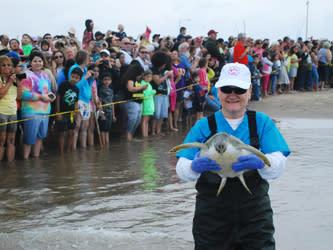 Take a break from water sports and beach activities to explore the wonder of one of South Padre Island's sparkling tourism gems, Sea Turtle, Inc. A non-profit organization rescuing and protecting marine turtles on the Island for more than 40 years, Sea Turtle, Inc. assists the U.S. Fish & Wildlife Service in patrolling beaches to look for and protect nesting sea turtles. South Padre Island is a nesting ground to the world's most endangered sea turtle, the Kemp's Ridley. Sea Turtle, Inc. provides the Kemp's Ridley, and other sea turtles, with medical and rehabilitation care to return them to the wild. The facility also offers visitors up-close and personal views of local marine life as well as educational programs, presentations, and guided tours.
Early Beginnings
Sea Turtle, Inc. was founded in 1977 by Ila Fox Loetscher to aid in the protection and recovery of the endangered Kemp's Ridley sea turtle. In 1999, the organization moved from Ila's backyard to its current location at 6617 Padre Blvd. Their mission has expanded to rescue, rehabilitate and release injured sea turtles, educate the public, and assist with conservation efforts.
What's New at Sea Turtle Inc.
In February 2018, Sea Turtle Inc. officially opened their new, multi-million-dollar Educational Center, featuring kiosks and museum-quality features in the lobby, and large sea turtle outdoor viewing tanks painted with beautiful murals by local artists. The facility's expansion also includes an amphitheater with stadium seating for 300, fitted with an audio-visual theater system. The next step in the expansion was to build a 500-foot walkway over the Laguna Madre connecting the old facility — which is being transformed into a full-service sea turtle hospital — to the new Educational Center. With the expanded facilities, Sea Turtle Inc. will be able to accommodate three times the number of turtles it could previously hold, increasing capacity from 50 to approximately 150!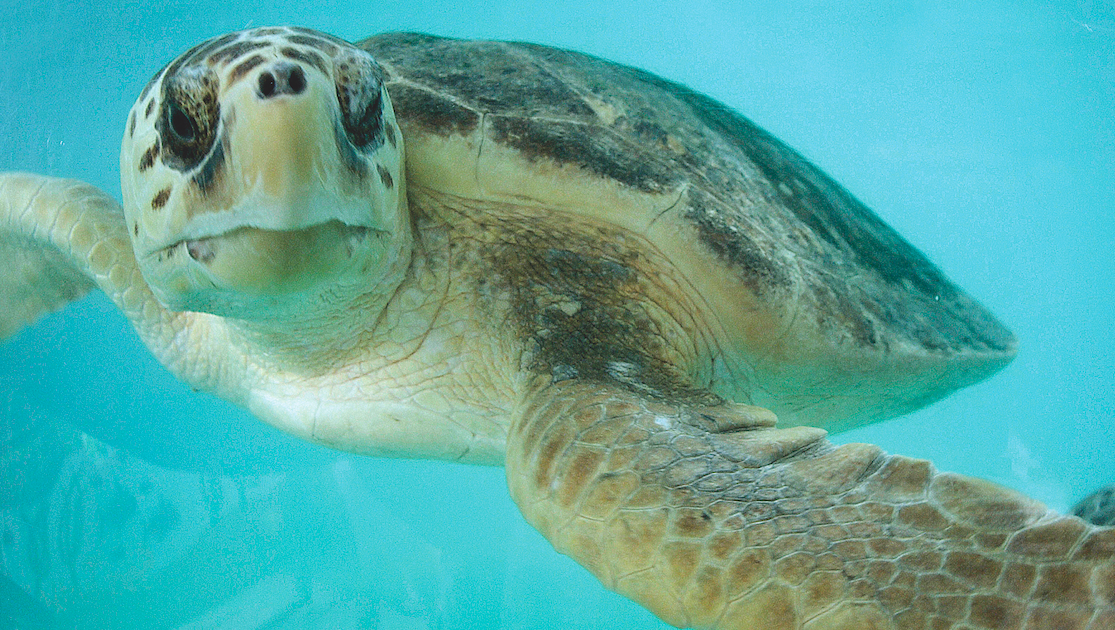 What to Expect When You Visit
A key part of Sea Turtle, Inc.'s mission is to educate visitors about sea turtles and conservation efforts. During a visit, guests can attend "Turtle Talks" to learn more about the organization's mission, species native to the Island, conservation efforts, and more; these typically run for roughly 20 minutes. Visitors are also encouraged to take self-guided tours of the outdoor facility and make time to watch turtle patients and resident turtles swim and play in the pools and tanks. Guests can also participate in Turtle Enrichment, where turtles are fed and worked with to practice important skills to return to the wild.
Plan Your Visit Today
Sea Turtle, Inc. is open year-round at 6617 Padre Blvd.
OFF SEASON
AUGUST 16 - MAY 31
10 A.M. - 4 P.M.
SUMMER SEASON
JUNE 1 - AUGUST 15
10 A.M. - 5 P.M.
Adults $6
Adults $10
Seniors/Military $5
Seniors/Military $6
Children $4
Children $4
Infants - Preschoolers FREE
Infants - Preschoolers FREE
Watch sea turtles live!
Visitors don't have to wait to experience the beauty of Sea Turtle Inc.'s amazing creatures. Take a peek of the sea turtles before you visit with a live, 24/7 webcam powered by Ramada Hotel & Suites South Padre Island and SouthPadreLive.com, here: http://www.seaturtleinc.org/sea-turtles-live/.