Get In Touch With Nature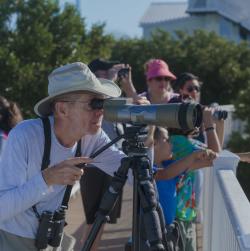 Offering a destination that is rich in nature tourism, South Padre Island is incredibly proud of the fact that millions of migratory birds and sea turtles instinctively migrate to the Island each year.
We're the Reason the Birds Fly South
The Island is rich in wildlife viewing and exploration opportunities. More than 300 species of migratory birds stop here each year during spring and fall migrations, making South Padre one of the best birding locations in the Western Hemisphere. The Island's wetlands provide a refuge for shorebirds and waterfowl.  

The South Padre Island Birding, Nature Center and Alligator Sanctuary offer exhibits on birding and other natural features of the Island, along with a five-story viewing tower, viewing blinds and boardwalk nature trails. For other birding opportunities, visitors can choose a guided tour or visit one of the Island's dedicated birding areas.
More than 300 different species of birds call South Padre Island home for part or most of the year.
Guided tours are free with admission at the South Padre Island Birding & Nature Center.